Inmate Visitation & Mail
---
Inmates rely heavily on contact with family and friends while in custody. Family and friends may visit an inmate through our video visitation service, call an inmate, or mail an inmate in custody at Payne County Sheriff's Office.
The following rules are promulgated for the safe, efficient and orderly operation of the Payne County Jail. They are not intended to interfere with or restrict any course of action the Sheriff deems reasonable and necessary to preseve the safety and security of the jail.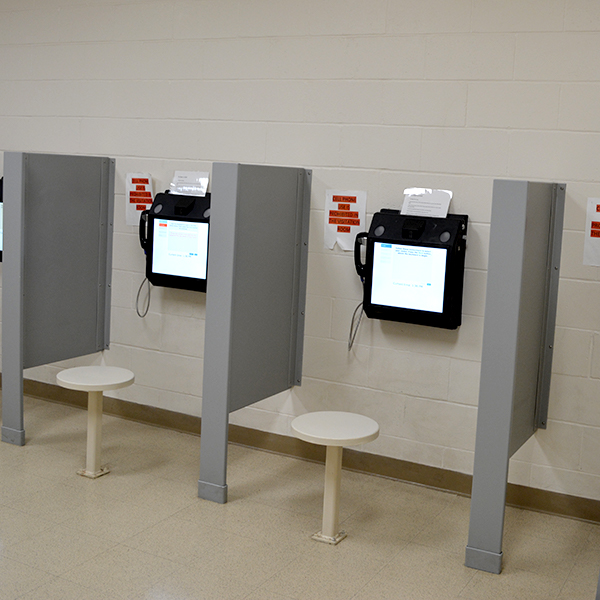 ---
Inmate Visitation
Each inmate may have 15 minute visitation on Wednesday and the visitor may come to the Sheriff's Office front lobby and use the visitation kiosk at no charge.
Video Visitation

All Visitation services are provided by City Tele Coin.
Remote video visitation is allowed daily.
To register for a direct pay account visit www.CityTeleCoin.com.
After your account has been created you can download the City Tele Coin app from iTunes or Google Play.
To video chat and send emails using the app or the City Tele Coin website, select the facility to set up a remote account for the inmate.
In-Person Visitation
In-Person visitation hours are from 8:30 a.m. to 11:00 a.m. on Wednesdays. You must be signed in by 10:30 a.m. Immediate family ONLY is allowed to visit unless first approved by the sheriff, under-sheriff or jail administrator.
Inmate visits are non-contact. All visitors will visit during the same ten minute session. Visits from Clergy are permitted by appointment. Clergy must present credentials upon appointment.
Inmate Mail Policy
All incoming and outgoing mail must have First and Last name and full address of both the sender and the recipient on the envelope.
No lipstick, lip gloss, or scents allowed on any material
No metallic fixtures or stickers of any kind.
No blank paper, envelopes, or stamps.
No printed social media papers (Facebook, Twitter, etc.) this includes newspaper clippings or comic strips.
No unauthorized correspondence between inmates to other inmates or other persons in a Rehab facility.
Pictures are accepted. They must be on photo paper and no larger than 4 x 6.
No pictures will be allowed that are graphic, suggestive, or inappropriate.
Anyone that does not adhere to these policies is subject to a rejection notice from Payne County Jail.
If you have questions, please contact the jail administrator.